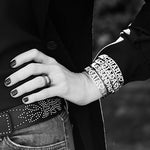 BESPOKE SERVICE
Spallanzani's Bespoke Service provides you with the opportunity to be involved in every step of the creation of a one-of-a-kind piece of jewelry that is designed and crafted to your personal requirements.
Please note that we are also able to special order one of our existing pieces to your specifications.
Whether it is an engagement ring, a wedding ring, a special gift, or a treat for yourself, Gaia Spallanzani and her Bespoke Jewellery Team are happy to discuss your idea and create your jewelry which is always true to Spallanzani's signature style.
We work with a variety of different gemstones, and we always aim to find the most exquisite colours and cuts for you.
Prior appointment is necessary. To make an appointment please contact info@spallanzanijewels.com
Only you collection is available in 48 combinations of golds and gems.