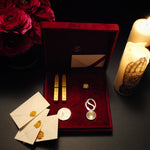 SAY IT & SEAL IT
The "Say It & Seal It" collection is a genderless ring collection with a representation of 6 different symbols stamped and sealed into silver or 18kt gold.
Each symbol has a very significant and personal meaning, with the only question being what seal best represents you?
A simple act of love, one's words, thoughts, hopes, and declarations written down on a piece of paper and sealed with your personal emblem. 

Rings can be personalised. For special designs or requests please contact us.