Spallanzani Milano 1880
''We have been designing and producing jewels for five generations in our family. 
Spallanzani has been renowned for the exclusive design of its collections and
the quality of products and materials''
                                                                                                                                                                                                                                      - Gaia Spallanzani
Welcome to our Showroom
We are pleased to welcome you, by appointment only, in our showroom in Via Montenapoleone 23, Milan - 20121
Contact us at +39.0292863746 or send us an email at info@spallanzanijewels.com
Email Us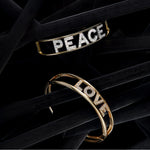 The one and only ''Only You'' bracelet!
The iconic Only You bracelets by Spallanzani, since 1970. Born from the love story between Guido Spallanzani and his wife Rosabianca,  timeless as this jewel. Help us to preserve their originality and uniqueness, by recognizing them among all the imitations.
How to recognize an original ''Only You'' bracelet
Celebrities in Spallanzani